---
Puget Sound Business Journal, Marc Stiles
Sound Transit has awarded general contractor Max J. Kuney Co. a $93 million contract to build a light rail station and guideway in the Bel-Red corridor of Bellevue.
Spokane-based Kuney will build the Bel-Red/130th Station and the mile-long guideway, which is one segment of the 14-mile East Link project from Seattle to Redmond. Kuney is to begin construction as early as this quarter, according to Sound Transit, which awarded the contract to Kuney on Thursday.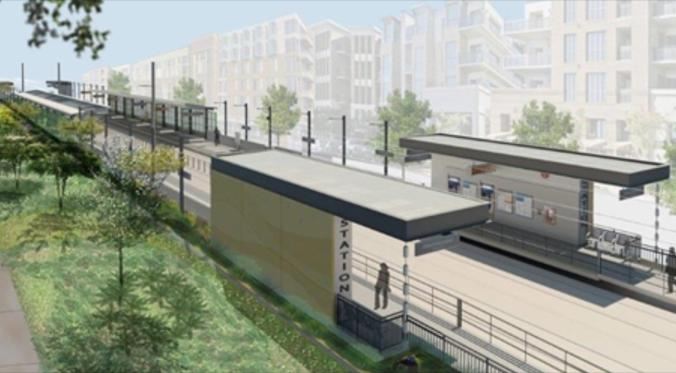 Just over six miles of East Link will slice through Bellevue, and construction is already causing traffic disruptions. It's in the Bel-Red corridor where construction is expected to be particularly messy because there are scores of businesses in the neighborhood, and most of the line will be built at grade.
The heaviest construction on East Link will be underway later this year and will last about three and half years. For more about the impact of light-rail construction in Bellevue.
Kuney will build an at-grade station located between 130th and 132nd Avenues Northeast and Northeast Spring Boulevard. Riders using the station will reach the downtown Seattle International District Station in 24 minutes.
East Link is a $3.6 billion project with 10 new stations, between Rainier Avenue at Interstate 90 and the Overlake Transit Center near Microsoft's headquarters.
In the Bel-Red corridor, trains departing from the Spring District/120th Station will continue east under 124th Avenue Northeast in a retained cut alignment before transitioning to an elevated guideway over the West Tributary of Kelsey Creek.
Approaching 130th Avenue Northeast, the line will descend to the Bel-Red/130th station. Departing the station, the route continues at-grade in the median of Northeast Spring Boulevard, turns north at 136th Place Northeast and crosses Northeast 20th Street before transitioning to an elevated structure and continuing along Highway 520 to the Overlake Transit Center station.
Kuney, an 87-year-old company has built some large projects along the East Link line, including the $30 million expansion of Interstate 90 through Mercer Island in 1991.